Game of Thrones' final season will divide fans: Kit Harington
Read Time:
1
minute
Kit Harington believes the ending of Game of Thrones will "divide opinion" because it is impossible to please everyone in the audience.
The 32-year-old British actor, who plays Jon Snow in the HBO epic fantasy drama, said the makers have made sure to give a "strong" end to popular series, reported Contactmusic.
"I think it will be strong. But you don't want to mess it up on the very last outing. I haven't watched a single series that has a following like Thrones does where everyone is satisfied with the ending.
"I don't think that it'll be any different with this. I think it will divide opinion," Harington told Emmy magazine.
Game of Thrones, which started airing in 2011, will wrap with season eight.
Earlier this year, the network announced that the final season will premiere on April 14. In India, the series will premiere on Star World.
---
Best Web Series based on College & Hostel Life
Read Time:
3
minutes
Time flies but memories stay afresh. Almost everyone agrees that school and college days are the best memories. This is due to the fact that people experience most of their 'firsts' in their teenage, which include crushes, fights, heartbreaks, and many silly mistakes, which turn out to be life lessons, and countless valuable experiences.
Today, many of the entertainment platforms are trying to bring back teenage memories through many series and shows. However, there is no programme or series that is even close to the reality that we lived through.
Although those messed up teenage moments are irreplaceable, here are a few Indian web series that managed to capture a bit of those days.
College Romance
College Romance is a fun-filled humorous as well as the dramatic story of three best friends, namely, Karan, Trippy, and Naira.
One of the most popular series of The Timeliners, College Romance is rated as 9.3 on IMDB. The series offers an enthralling journey of three BFFs and their relationships with much laughter, drama, and love.
Flames
Flames is an emotional love story presented by The Timeliners yet. The series showcases the story of two high-school teenagers falling in love. The web series offers a young romance and a heartbreak in the backdrop of the 90s vibe.
The target viewers of the series include the youngsters, who can relate to the excitement and nervousness of crushes and the then first love fever making it a nostalgic trip down the memory lane.
Girls Hostel
This is a female-centric web series launched by Girliyapa Originals in association with P&G's feminine hygiene brand Whisper.
The series explores the students' life of four girls in a hostel. It is a story of Friendships, love, rivalry, hatred, and everything is very thoroughly and thoughtfully showcased in the series.
Laakhon Mein Ek
Another Indian web series that shows the struggle of a teenage student from a small town, who joined an IIT coaching center in Visakhapatnam.
This is an Amazon Prime Video original series created by Biswa Kalyan Rath and produced by OML Production. It's a rollercoaster ride of emotions and dram for youngsters as well as parents.
Engineering Girls
Another college-fun-days series by The Timeliners is Engineering Girls. It brought major waves on the web by depicting the life and emotions of three young girls.
The series is a complete pack of emotions, drama, and dreams and an attempt to make a mark in the world. It showcases a much relatable story of every college student which is very much appreciated by the viewers.
Which web series takes you back to your school or college days?
What are The-Must-Watch Indian Web Series?
Read Time:
2
minutes
Nowadays most prefer to watch video content directly on the web.
This has turned the Indian web series industry into our daily dose of incredible entertainment. Additionally, the Indian Web series has evolved and has produced appreciable and creative content that has astounded the Indian population.
Here are some of the most popular must-watch web series.
Pitchers
A web series created by The Viral Fever (TVF), Pitchers was developed by Arunabh Kumar. The first season of the web series comprised of five episodes and premiered online on the content web portal of TVF and latter it was premiered on YouTube. It was one of the best and the first web series from India which not only clicked with the classes but also related well with the masses.
Permanent roommates
Permanent Roommates is another Indian web series created by TVF and Biswapati Sarkar. The online series was well appreciated by the internet audience. The first episode was viewed by more than 4.5 million audiences.  The series was hosted on TVF's official YouTube channel and it gathered over 1 million views for each episode.
Tripling
Tripling was among the recent Indian web series created by The Viral Fever. The storyline of the series revolved around three siblings and their hilarious journey, to discover themselves and their relations. The season 2 of the web series was released on TVF PLAY and Sony Liv on 5th April 2019.
Mirzapur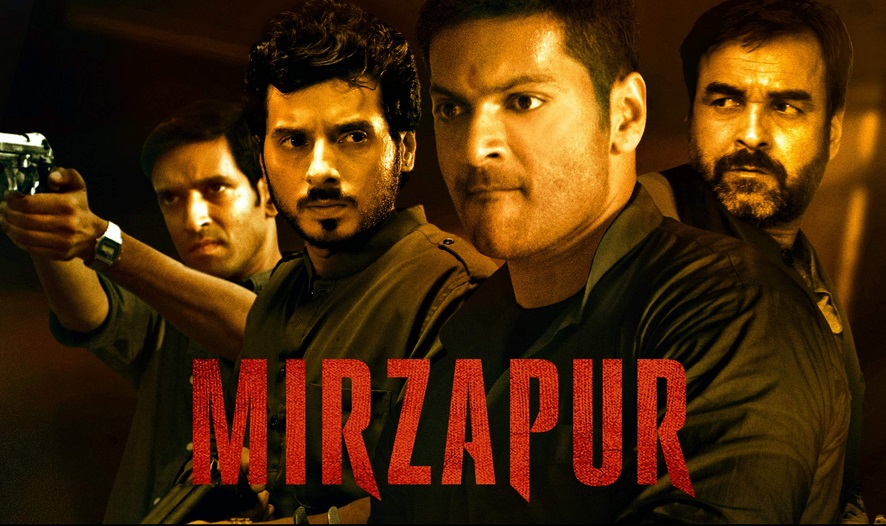 Mirzapur was a crime thriller web series produced by Excel Entertainment. The series was majorly shot in Mirzapur, and some of the scenes were also shot in Jaunpur, Ghazipur, Azamgarh, Lucknow, and Gorakhpur. The storyline was based on drugs, guns, and lawlessness. Its season 1 comprised of 9 episodes in total and the show has been now renewed for a second season as well.
Sacred Games
Sacred Games was another web television thriller series based on the novel by Vikram Chandra's 2006. It was the first Netflix original series in India, directed by Vikramaditya Motwane and Anurag Kashyap and it was produced under the banner of Phantom Films. The show holds over 90% certified fresh rating on Rotten Tomatoes, the review aggregator website.
You can also share your opinion of your favorite Indian web series in the comment section. What is your take on the recent web series 'The Family Man' on Amazon Prime Video?