Warli Art: An Ancient Tribal Art form from Western Ghats
Read Time:
2
minutes
Warli is one of the ancient forms of Indian tribal art. The tribal art form was originated in Warli region in Maharashtra and is practiced till date. The Warli culture strongly believes in Mother Nature and therefore their paintings usually depict all elements of nature. In ancient times, the artists mostly use the walls and floors of their clay huts as a canvas for their paintings. On special occasions, the floor and walls of the huts are cleaned and thinly coated with a mixture of mud and cow dung, which acts as a background for the traditional Warli art.
The style and materials used
This art of Warli primarily comprises of geometric shapes and figures like triangles, circles, lines, and squares to depict life, culture, and tradition of the Warli tribe. The ink or paint used in sketching this art is a white paste prepared by mixing ground rice with water and gum, while the paintbrush is made of bamboo stick chewed at its tip to form the brushes of the applicator. One of the most common and well-known themes in Warli form of art is a spiral chain of human beings around one central motif. The depiction of such a pattern is symbolic to their belief that life is an eternal journey, which has no starting or ending point.
Keeping the traditional form of art alive
Since the 1970s, Warli painting has moved onto canvas and paper, when Jivya Soma Mashe and his son Balu Mashe started to paint not for ritual purposes but for the sake of their artistic pursuits. Jivya is considered as the modern father of Warli painting.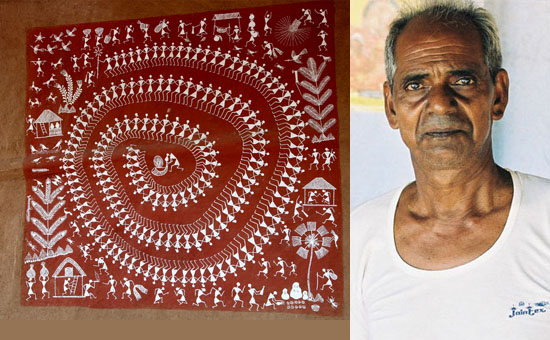 While traditional art forms like Warli are finding it hard to survive in this digital era, a few selfless souls are putting all their efforts to keep the tradition alive. One of the saviors is Govardhan Eco Village in Thane district that has stepped forward to make this art form alive forever by offering the Warli artists various platforms to showcase their art.
Coca-Cola India introduced a campaign featuring Warli painting in order to highlight the ancient culture and represent a sense of togetherness. The campaign was known as "Come Home on Deepawali", which specifically targeted the modern young generation. The advertisement was promoted on traditional mass media, combined with radio, the Internet, and out-of-home media.
---
Grand presentation of the Ramayana by the residents of Prestige Misty Waters, Hebbal
Read Time:
3
minutes
The residents of Prestige Misty Waters in Hebbal had a range of activities spanning over 2 days as part of the "Dasara Habba" celebrations which bought to a culmination with a grand presentation of the Ramayana. Around 500 people gathered to witness the spectacle of Ramayan.
The Ramayan is an epic depicting the love between Father and Son. King Dashrath loved all 4 of his sons equally but when the time came to choose his successor, it led to his favorite Queen Kaikeyi to ask for a forgotten boon putting King Dashrath in a dilemma of how to fulfill a promise long forgotten without letting his sons be banished to the forest.
Ram, Lakshman, and Sita, forever dutiful decided to spend 14 years in the forest. No Indian epic is complete without a villain. Ravana possessed with immense knowledge and obsessed with keeping Sita in Lanka was the star of this show, awing and scaring the audience in equal measure.
The children witnessed live the saying of a friend in need is a friend indeed when they saw a popular uncle of the complex playing the role of the beloved Hanuman and helping Lord Ram and Lakshman at every step.
The hard work of the residents, the elaborate costumes, makeup, lights and glamour with a cast of over 25 residents, many of whom had acted on stage for the first time ever, the play was the highlight of the event and will be remembered by all residents for a very long time.
The residents also celebrated Navratri Night to welcome Ambe Maa. Traditional garba workshops were conducted over the course of the week, brought to a crescendo with beautiful concentric garba circles and colourful Dandiya pairs starting with Gujarati songs like Pankhida and ending with the more popular Kamariya.
Traditional games for kids like lagori, kho-kho and kabaddi were also conducted. The kids made their own Ravana and wrote slips with one bad habit which they wished to overcome in the coming year. Following this all kids made yummy laddoos and distributed them amongst all residents.
When we began the rehearsals, I had all non actors in hand who had zero experience in performing art. From there to becoming as good as professional actors in a span of 15 days needed dedication and passion.  I couldn't have asked for a better team that made the impossible possible.
My associates, Raghavendra and Swati were a boon and made everything so easy.  A perfect example of excellent teamwork, said a resident Priyaa Arya, who scripted and directed the play.
For the first time ever, my child has seen a story come alive from the books onto the stage. He will never forget this wonderful show, said one of the resident Varalakshmi.
I could not believe my eyes, looking at my friends playing the characters of the Ramayana. I was truly amazed and hats off to all participants to take time out from their busy schedule to put this play of together, said another resident Lokesh.
Being a space scientist, i had never ventured into art related fields and gone on stage even as a supporting actor.
When I was asked to do the role of Raavan, I felt, let's put the effort. Surprisingly the practices really instilled the interest & character in me which made me to reciprocate the same, said another resident Suresh Naik.
–Press Release