Ozone Layer Depletion: Cause, Impact and Solution
Read Time:
3
minutes
Ozone depletion refers to the gradual thinning of Earth's ozone layer in the upper atmosphere. The primary reason for the ozone layer depletion is the release of chemical compounds that contain gaseous chlorine or bromine from various industries and other human activities. The thinning of the layer is most prominent in the Polar Regions, particularly over Antarctica.
Ozone depletion is a major environmental concern since it increases the amount of ultraviolet (UV) rays that reach the Earth's surface. As a consequence, excess of UV rays increases the rate of eye cataracts, skin cancer, genetic and immune system disorders.
Impact on Human Health
Ozone layer depletion increases the rate of UVB penetration into the Earth's atmosphere. According to epidemiological studies, UVB causes non-melanoma skin cancer and promotes malignant melanoma development. UVB is also linked to the development of cataracts commonly referred to as the clouding of the eye's lens.
Impact on Flora
Some crops species are vulnerable to strong UV rays and overexposure to this radiation may inhibit plant growth, photosynthesis, and flowering. The vulnerable crop species include barley, corn, wheat, rice, oats, tomatoes, broccoli, and cauliflower among others.
Effects on Marine Ecosystems
Certain marine life, especially phytoplanktons is greatly affected by exposure to strong UV rays. As a consequence, a decrease in the number of phytoplanktons may disrupt the aquatic food chain in many ways. Further, certain species of marine life have been greatly impacted by overexposure to ultraviolet rays at a very early stage. For example, it has been observed that excess UV rays may disrupt early developmental stages of shrimp, fish, crab, amphibians, and other marine animals. The most adverse impact includes decreased reproductive ability and impaired larval development in aquatic animals. Slight increases in UVB exposure may result in population reductions for marine organisms with implications for the entire aquatic food chain.
Effects on Materials
Materials such as wood, plastics, fabrics, rubber are massively degraded by excess exposure to ultraviolet radiation.
Solutions to Ozone Layer Depletion
Avoid pesticides usage
Pesticides contribute enormously to ozone layer depletion. Therefore, pesticides should be avoided and natural methods should be implemented to get rid of pests and weeds. Some of the natural methods include weeding the farm manually and use of alternative eco-friendly chemicals to control pests.
Minimize vehicles on the road
Another easiest way to minimize ozone depletion is to limit the number of vehicles on the road. Vehicles emit a lot of greenhouse gases which in due course form smog, a catalyst in the depletion of the ozone layer.
Usage of eco-friendly cleaning agents
Most of the household cleaning agents are packed with harmful chemicals that find the route to the atmosphere, ultimately contributing to the degradation of the ozone layer. People should give up the usage of such chemicals and instead use natural and environmentally friendly cleaning agents.
Prohibition on the use of nitrous oxide
Another harmful compound responsible for ozone depletion is nitrous oxide. Governments must take action to outlaw nitrous oxide usage to reduce the rate of ozone depletion.
---
Ground Water Depletion in India: The crisis which is going to surface everywhere
Read Time:
8
minutes
Global warming has been a concern for the dwellers on the earth. Its repercussions are many folded in variegated forms in recent times, especially the depletion of the groundwater level. As India is the second-most populous nation across the globe it shoulders the maximum burnt to his capacity. We as a citizen of India must prepare for the worst and hope for the best to overcome such inconceivable extreme situation.
Groundwater is the water that seeps through rocks and soil and is stored below the ground. The rocks in which groundwater is stored are called aquifers. Aquifers are typically made up of gravel, sand, sandstone or limestone. India accounts for almost one-fourth of the total groundwater extracted globally, more than that of China and the US combined thus using the largest amount of groundwater 24 per cent of the global total, according to sources. Over the past fifty years, the use of groundwater for irrigation has dramatically increased in developing countries like India and China.
Increased groundwater irrigation has enabled higher and more consistent crop yields, which in turn has improved food security and reduced poverty. However, this increase in groundwater use has led to falling water levels and widespread concern about the long-term sustainability of irrigated agriculture.
These concerns are especially dire in India, where groundwater use has increased by 500% over the past fifty years. With 230 billion metre cube of groundwater drawn out each year for irrigating agriculture lands in India, many parts of the country are experiencing rapid depletion of groundwater. The total estimated groundwater depletion in India is in the range of 122–199 billion metre cube. The Indo-Gangetic Plain, north-western, central and western parts of India account for most intensive groundwater-based irrigation. And among these regions, western India and the Indo-Gangetic Plain have more than 90% of the area irrigated using groundwater.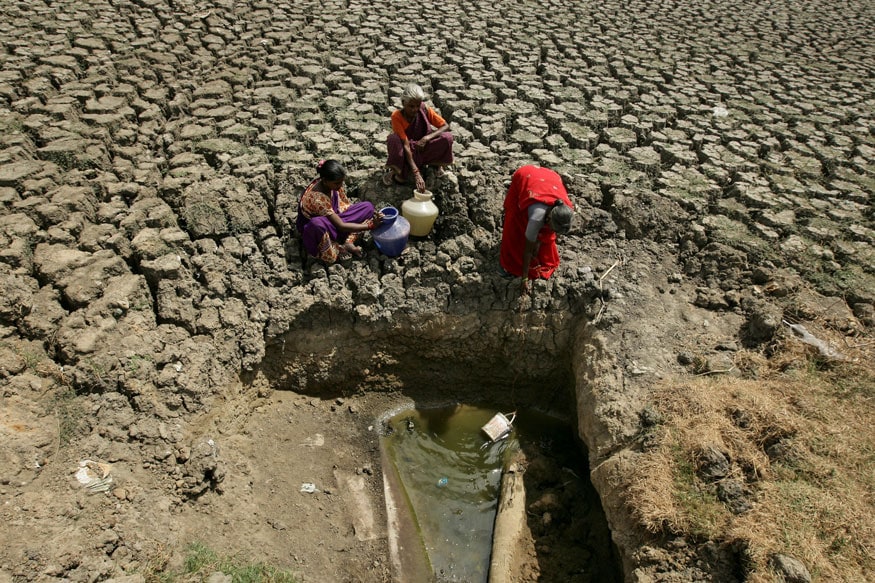 India is an agrarian economy where 58.4% of people depend upon agriculture. The most popular cereals that have been cultivated are rice and wheat. These water-guzzling crops are heavily dependent upon irrigation which why the situation has been becoming alarming down the line. The report said that one kg of wheat and rice required an average 1,654 and2,800 litres of water respectively. So, just for rice, a family of four consumes approximately 84,600 litres of virtual water in a month. According to the report by Water Aid India, In 2014-15, India exported 37.2 lakh tonnes of basmati.
To export this rice, the country used around 10 trillion litres of water, meaning India virtually exported 10 trillion litres of water .it is calling for production of these goods to be made more sustainable and for consumers to be more thoughtful in their purchasing habits.
Lack of access to clean water further pushes the marginalised and vulnerable communities towards an inhuman circle of poverty. The burden of accessing water to meet daily needs prevents them from reaching their full potential by inhibiting their education, health and livelihood opportunities.
There is a dire need to invest in making clean water within the household accessible to everyone, everywhere. India's success in providing its citizens with access to clean water will significantly impact the success of global goals that the government has committed to.
India's over-exploitation of groundwater is contributing to—as stated by NITI Aayog—"the worst water crisis in its history". Groundwater is one of the most important water sources in India accounting for 63% of all irrigation water and over 80% of the rural and urban domestic water supplies. In fact, the United Nations Educational, Scientific and Cultural Organization (UNESCO) World Water Development Report states that India is the largest extractor of groundwater in the world. Fifty-four percent of India's groundwater wells have declined over the past seven years, and 21 major cities are expected to run out of groundwater by 2020.
Thus, India faces a dual challenge: to regulate the growing demand for groundwater while replenishing its sources.
Research indicates that although MSP has led to assured incomes, it has also led to groundwater depletion, income inequality and unsustainable agriculture. On the supply side, the performance of state governments has not been satisfactory, with the NITI Aayog Composite Water Management Index (CWMI) report stating that the majority of states have scored less than 50% in the source augmentation of groundwater resource index.
Given this scenario, we require policies that promote the judicious use of groundwater. Although there are a number of potential interventions in the area of groundwater conservation, there are hardly any rigorous evaluations. In absence of rigorous research, such as randomized evaluations, which can establish the causal impact of an intervention, it is a challenge to identify solutions that are highly effective.
However, researchers could draw lessons from existing solutions, and use them to design interventions that could later be rigorously evaluated.
One of the proposed ways to reduce groundwater extraction is by reducing electricity subsidies. Subsidies on electricity are thought to play another major role in the Indian groundwater crisis. The vast majority of groundwater pumps are unmetered, and if charged, are billed at a flat, non-volumetric, and highly subsidized tariff. This flat rate is responsible, at least in part, for inefficient usage and excessive withdrawal of groundwater. In addition, the government encourages farmers to produce water-intensive crops like rice and sugarcane through increased minimum support prices (MSP).
An analysis of panel data across 370 districts in India found that a reduction in electricity subsidy was correlated with a decrease in groundwater extraction. On average, a 10% reduction in electricity subsidy generated a 6.7% decrease in groundwater extraction. However, reducing electricity subsidies for farmers could be politically unpopular. One possible way to overcome this challenge is by limiting the electricity subsidy offered to farmers and compensating them with a direct cash transfer for every unit they save. This provides farmers with an incentive to use groundwater judiciously without any additional cost to the government.
Creating sustainable change would require a bottom-up approach by empowering the local community to become active participants in managing groundwater. In line with this, the central government in its 12th five-year plan proposed a policy of participatory groundwater management (PGM), which involves a collaborative approach among government departments, researchers, NGOs and community members. The plan involves training community workers to carry out aquifer mapping and implement innovative ways to use groundwater conservatively with the local community.
The PGM has been implemented in different states, albeit with some variations, such as the Andhra Pradesh Farmer Managed Groundwater Systems (APFAMGS) programme in Andhra Pradesh and Pani Panchayats in Maharashtra.
Advocating for the sustainable management of freshwater resources, World Water Day is celebrated every year on March 22. It was established in the year 1993 to build public awareness and involvement in protecting water resources around the world.
Today, billions of people are still living without safe water – their households, schools, workplaces, farms and factories struggling to survive and thrive. Marginalized groups – women, children, refugees, indigenous peoples, disabled people and many others – are often overlooked, and sometimes face discrimination, as they try to access and manage the safe water they need.' Safe water' is shorthand for a 'safely managed drinking water service': water that is accessible on the premises, available when needed, and free from contamination.
The theme for World Water Day 2019 is 'Leaving no one behind'. This is an adaptation of the central promise of the 2030 Agenda for Sustainable Development: as sustainable development progresses, everyone must benefit.
India is currently ranked 120 among 122 countries in the water quality index. In 2015, the Indian government committed to the UN Sustainable Development Goal 6, which promises that by 2030 everyone will have access to clean water, decent sanitation and good hygiene. The human right to water must take priority ahead of other competing demands.
However, there is almost no research study evaluating its impact. While this void is disconcerting, it also presents an opportunity for researchers and policymakers to design and test different interventions ranging from awareness campaigns to training programmes that effectively mobilize and equip the local community to work towards groundwater conservation.
Groundwater has helped India overcome food shortage in the 1960s by playing an instrumental role in ushering in the green revolution. However, the NITI Aayog CWMI report is a timely reminder of the need for policymakers and researchers to come together and conduct rigorous evaluations in order to understand what works and what doesn't work for groundwater conservation.
No single action whether community-based, legislation, traditional water harvesting systems or reliance on market forces will in itself alleviate the crisis in India. The effective answer to the freshwater crisis is to integrate conservation and development activities – from water extraction to water management – at the local level; making communities aware and involving them fully is, therefore, critical for success.
All this will ultimately pave the way for combining conservation of the environment with the basic needs of people. Unless we take urgent measures to avert this crisis, we may find ourselves faced with an environmental catastrophe of our own making.