Make this Navratri Delightful With These Desserts
Read Time:
2
minutes
Navratri is one of the greatest festivals that bring joy as well as cleanses our body, mind, and soul. Most of the devotees observe fasts to display their devotion to Goddess Durga. However, observing fasts and eating the same things every day sometimes becomes a bit monotonous. Therefore, here are some of the dessert recipes that will make your Navratri special.
Aloo ka Halwa
This is a famous and delicious dessert from Uttar Pradesh and is generally prepared during the festive season of Navratri.
Ingredients needed: 3 large potatoes, boiled, 1 Tbsp ghee, 1/2 cup sugar, 1/2 cup milk, 1/2 Tbsp cashews chopped & lightly roasted, 1/4 Tbsp almonds flaked or chopped, A pinch of cardamom powder, 1/2 Tbsp raisins.
Let's cook it.
First, boil the potatoes. Then peel off the skin and mash the potatoes.
Take a pan, add some ghee and let it heat. Then add the mashed potatoes and let it roast for 1-2 minutes.
Next, add milk, sugar, and raisins to the mashed potatoes and mix them well.
Cook the same for another 8-10 minutes and keep stirring frequently.
Then, add cardamom and mix well.
Finally, garnish with almonds flakes & cashews.
Serve hot and enjoy.
Apple Crumble with Singhara Atta (Water Chestnut Flour)
The tremendous combination of singhara atta or water chestnut flour and some grated coconut along with raisins is a lovely and wholesome treat to the taste buds.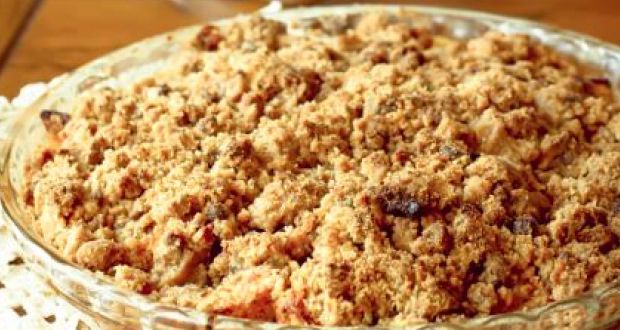 Ingredients needed: 1/2 Kg apples peeled and cut into 1/2″ dices, 1/2 coconut (grated), 50 gms raisins, 1/2 tsp crushed cardamom seeds, 3/4 tsp cinnamon powder, 3 cloves, grated nutmeg, 2-3 tbsp grated gur/sugar,
Ingredients for the Topping: 150 gms singhara atta, 75 gms chilled butter and 75 gms grated gur/sugar.
Let's cook it.
Take a bowl and mix the apples with the coconut, raisins, spice, and sugar.
Next, spoon into a buttered ovenproof dish.
Then, mix the sugar and singhara atta and sugar.
Rub in the butter with your fingertips until the mixture attains breadcrumbs like texture.
Then, top the apples with the crumble mixture.
Now, bake in a pre-heated oven at 180 C/ 350 F for 20 minutes, or until the topping becomes crisp and colored.
Serve hot with ice cream, custard or cream.
Enjoy your Navratri Fasting!!!
---
Have you ever baked a cake from leftover ice-cream!
Read Time:
2
minutes
This is one of the easiest and simplest eggless cake recipes. The most interesting part of this recipe is there isn't much hassle to prepare the cake batter. Let's see how we can do this.
Ingredients needed:
2 cups ice cream of any flavour of your preference.
1½ cups maida or plain flour or refined flour or all-purpose flour
2 tsp baking powder
pinch of salt
Let's bake the cake.
First, take a large mixing bowl and add 2 cups vanilla ice cream or you can use any flavoured ice cream.
Allow it to melt at room temperature naturally.
Then, add 1½ cups maida or all-purpose flour into it.
Next, add 2 tsp baking powder and salt.
Then, combine and mix well to form a thick batter.
Then, transfer the batter into the baking tray greased with baking paper.
Then bake the cake in a preheated oven at 180-degree Celsius or 356-degree Fahrenheit for 25 to 35 minutes.
Then, cool down the cake completely. Next, transfer it to a cooling rack to cool faster.
Now slice it and enjoy the yummy eggless ice cream cake.
Tips:
Use a full cream ice cream. Low-fat or dairy-free ice cream do not work.
Avoid baking powder and salt if you are using self-raising flour.
To check the cake has baked completely, insert a toothpick at the centre and see if it does not stick to the toothpick. If it sticks, then you need to bake it for another 5 minutes.
Making Paan Ice-cream was never this easy before!
Read Time:
1
minute
Paan ice cream is a refreshing treat to beat the heat. However, every time we crave for it we need to step out to get it from our favorite store. Let us make it at home. Here we have a solution for this.
Ingredients needed: 1 liter vanilla ice cream, 8-10 finely chopped large paan leaves, 4 tablespoons Gulkand or rose petal jam, 2 tablespoons candied fennel, 1.5 teaspoons Mishri or sugar candy, 3-4 chopped dates, 1/8 teaspoon mint extract, few drops green food color (optional), and desiccated coconut and cherry for garnishing
Let's now make this…
Take the vanilla ice cream in a large bowl and beat or whip the ice cream using a spatula.
Then add chopped paan leaves, candied fennel, Gulkand, Mishri, chopped dates, and mint extract. Also, add a few drops of green food color to give it a green mint look.
Fold in everything together and mix well.
Pour the ice cream back into the ice cream container/tub and freeze overnight.
Garnish the paan ice cream with coconut flakes and cherries before serving.
5 Yoghurt​ ​Recipes​ ​for​ ​the​ ​Perfect​ ​Dessert
Read Time:
3
minutes
Saturday, 30/3/2019: The rising popularity of yoghurt has incited chefs to come up with new yoghurt recipes. It is not just linked to its extraordinary taste and versatility, the smooth dairy nourishment is additionally useful for the body.
Yoghurt is a great source of important supplements and vitamins required for the body to work ideally. The good bacteria found in yoghurt enhance the body's retention of basic supplements, and prevent the growth of unsafe microbes in the body. Yoghurt not only aids digestion, it also smoothens the skin and soothes the stomach.
Making Desserts with Yoghurt
Drinking plain yoghurt can get rather exhausting but, not to worry, there are numerous approaches to incorporate yoghurt in your eating routine particularly as desserts. Indeed, you get the chance to appreciate a healthy and sweet bowl of treat with yoghurt as the primary ingredient.
Let's take a look at 5 delicious Yoghurt recipes that can be made from yogurt.
1. Fresh Fruits and Yoghurt Parfaits
Yoghurt parfait is a healthy and tantalizing dessert treat. Typically, a yoghurt parfait comprises of layers of yoghurt, grains, nuts and fruits. It contains low measures of fat and calories and is an ideal treat after a delightful feast.
How to make:
To stir up this scrumptious parfait, add a couple teaspoons of honey, nuts and grain of choice to your most loved yoghurt flavour.
Stir to mix and garnish with fresh natural fruits like apples, strawberries or raspberries.
2. Mug Cake
This mug measured cake is significantly healthier than a regular cake since it's made with yoghurt and almond milk and contains little sugar.
How to make:
Whisk together yoghurt, margarine, almond drain, egg, lemon separate, vanilla concentrate, and sugar with a fork.
Include some flour and whisk until the blend is of a smooth consistency.
Mix in a few tablespoons of your favoured toppings, also sprinkle more toppings around the sides of the mug and over the batter.
Microwave for around three minutes until firm. Serve with a glass of sweetened yoghurt. Twofold treat!
3.  Yoghurt Frosting
The yoghurt takes the place of butter or most fatty ingredients found in traditional frosting recipes, yet adding the creamy texture without all the unhealthy fat.
How to make:
Blend some whipped cream, yoghurt, powdered sugar and vanilla extract together until completely smooth.
If a thinner frosting is desired, add a little milk of choice to thin it out.
This yoghurt cream icing can be used in icing cakes or treats like cookies and doughnuts, and is best served instantly after frosting.
Peanut Butter Dip
Here is a quick and effortless approach to jazz up fresh fruit.
How to make:
Whisk Hollandia yoghurt, peanut butter, and any sweetener of your choice together and you've got a creamy dip for apple and banana slices, strawberries and more.
It's not only an additional exciting twist to eat fresh fruit, but it also adds some protein to the snack.
5. Yoghurt Pretzels
Yoghurt-covered pretzels are a great snack. They give off a sweet and salty taste with just a tiny bit of tanginess that comes from the yoghurt. To make yogurt bark you need sweetened yoghurt as well as one special thickening ingredient, yogurt powder.
How to make:
Break up pretzel pieces, add sweetened Hollandia yoghurt, yoghurt powder, melted white chocolate and diced strawberry.
Pour the mixture out onto the prepared baking sheet and top with extra pretzels.
Bake until you get the desired result and serve with fruit juice.