Temperature down, but dengue cases up in National Capital
Read Time:
2
minutes
Even with the onset of winter when conditions become unfavourable for the breeding of mosquito larvae, dengue cases have mounted to 2,774 this year a municipal report said Monday.
Dengue has been on a consistent rise in the city breaking last year's record where 81 cases were reported in December 2017. Halfway through the month, 117 cases have already been reported (till December 15).
42 fresh cases of Dengue were reported in the Delhi/NCR region last week. At least four people, including a minor boy, have died in the city due to the vector-borne disease this year till December second week. Authorities fear that this rise will break several records from previous years.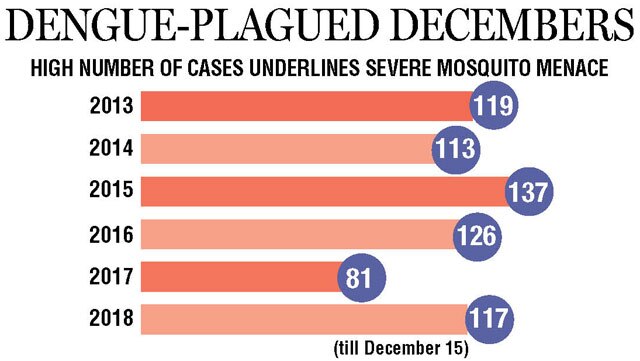 1,062 dengue cases were reported in the month of November — the highest cases in the month of November in the last six years. The number of cases of dengue in November in 2017 and 2016 was 816 and 655 respectively.
Also, two cases of malaria and three of chikungunya have been reported till December 15 taking the total number of malaria and chikungunya cases to 473 and 164 respectively, the report said.
Overall, the number of cases for the three diseases have gone down compared to last year where 556 and 575 cases of chikungunya and malaria were reported by this time last year. This time, the figures are at 164 and 473 chikungunya and malaria respectively. 4704 cases of dengue were reported by this time last year.
Apart from the vector-borne diseases, the capital is witnessing a rise in viral fever cases due to changing weather.
"The earliest recognizable symptoms of a viral infection are often fatigue and body ache. This may be followed by the onset of fever. In most cases, fever is accompanied by a sore throat, running nose, nasal stuffiness, and red eyes. A headache is also a common symptom of viral infection. Vomiting and diarrhoea may be present in some cases," said Doctor Rajesh Bhudiraja, Internal Medicine, Asian Institute of Medical Science.
---
BJP MP Verma meets LG and hands over the list of minority religious structures on govt land
Read Time:
3
minutes
The Bhartiya Janata Party member of parliament from Delhi and son of the former chief minister of NCT of Delhi  late Sahib Singh Verma, Parvez Sahib Singh met the lieutenant governor of the capital Anil Baijal and submitted him a list of several mosques and Kabristans ( graveyards) on government's illegally encroached lands and have demanded their vacation as well as severe necessary departmental action against the erring officials as well, under whose jurisdiction and negligence of these religious buildings and graveyards have been arbitrarily constructed.
According to the MP Parvez Sahib Singh Verma, the chief secretary of Delhi and several senior bureaucrats of the concerned departments were also called to his office by the LG.
The LG Anil Baijal had asked the concerned officials to cross-check the list presented by MP Parvez Sahib Singh Verma and submit the detailed report to the LG office at the earliest.
Speaking to media persons MP Verma has said that the Lieutenant governor of Delhi Anil Baijal gave him a patient hearing and assured him to do the needful by verifying his claims and also initiating necessary action against the erring officials if found guilty of negligence in this regard.
When asked by reporters, especially of Aaj Tak about the allegations on him by opposition parties about selectively pursuing the matter of mosques and graveyards thus allegedly doing the politics of religion and not targeting certain temples and Gurudwaras of the majority community built on government lands, Parvez Sahib Singh Verma said that he had asked people to inform him about the mosques and  graveyards being built on illegally encroached government land but has not received any complaints about temples and Gurudwaras built on government land illegally.
The politics have hot up by this selective approach of the BJP MP say sources and questions are being asked by individuals as well as some minority organizations of targetting the minorities willfully which is not acceptable.
This issue is too sensitive as it involves the minorities versus majority implications say, certain political analysts.
Some people say that in case of action is taken on this complaint against mosques and graveyards built on unauthorized government land, the relevant authorities should definitely take due action but then the law should be equal for all religions and religious structures built on encroached land arbitrarily irrespective of any particular religion.
Such matters of religious implications that derive different political connotations should be strictly dealt with by the honorable courts than through political interventions as at the base of religion lies politics say some political analysts.
The protracted issue of Ram Janmabhoomi has not been resolved since several decades despite the intervention of successive governments after independence, finally arriving in the honorable supreme court for final resolution. What's your take friends?