First Jawa Bike Delivered in India
Read Time:
1
minute
It was a momentous occasion for Classic Legends, which relaunched the iconic Jawabrand in our markets, as the first Jawa bike was delivered yesterday. The first lot of Jawa bikes will be delivered to customers based on the online booking sequence (starting from November 15). At the time of launch last year, Jawa had announced that the first lot of bikes will be handed over to customers in March and the brand kept its word.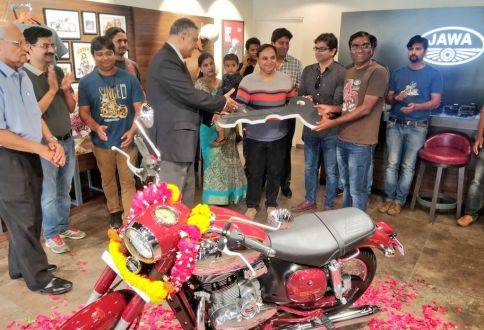 Classic Legends also held a special auction for 13 chassis numbers, proceeds of which will be handed over to the Indian Armed forces. The winning bid was a whopping Rs 45 lakh for chassis no.1 and in total, the brand managed to rake in Rs 1.43 crore. Jawa has two bikes on sale in the Indian market – Jawa & the Jawa Forty Two. The base Jawa Forty Two retails for Rs 1.55 lakh, while the dual-channel ABS model has been priced at Rs 1.64 lakh. The Jawa carries a sticker price of Rs 1.64 lakh while the dual-channel ABS model retails for Rs 1.73 lakh (all prices are ex-showroom, Delhi). Jawa currently has 95 dealerships across India.
---
DPIIT summons food aggregators like Zomato, Swiggy over predatory pricing
Read Time:
2
minutes
The Department for Promotion of Industry and Internal Trade (DPIIT) has summoned food aggregators including Swiggy, Zomato, Foodpanda and Uber Eats over restaurants complaint of them engaging in deep discounting. The dispute between restaurants and food aggregators has been going one for almost a year.
DPIIT has called meeting to resolve offline restaurant concerns, which is quite similar to what offline retailers had with e-tailers, said an official aware of the development.
The meeting will be attended by food aggregators and restaurant associations, including the Federation of Hotel & Restaurant Associations of India and National Restaurant Association of India. It will be chaired by DPIIT secretary, Ramesh Abhishek.
Govt will try to address the restaurants issues through mutual discussion and find equal growth opportunity for the industry, reportedly said officials.
Commerce and industry minister, Piyush Goyal, had earlier warned e-comm firms, in almost similar cases, to avoid hurting small businesses through their predatory pricing practices. Goyal had categorically said that the government will not allow small retailers and kirana shops to be wiped out.
The restaurant associations have time and again complained against food aggregators harming their business through making consumers discount addicts.
Two months ago, restaurants had complained, about the impact of deep discounting offered by food aggregators, on their business. Through predatory pricing food aggregators are forcing restaurants to drop prices, restaurants said.
Food aggregators have also indulged in running their own private labels, who are eating away their businesses and using consumer behaviour data to consolidate their business, they added.
In January, over five hundreds of restaurants had complained to the CCI.