Cycling is common nowadays, not only among youngsters but also among elders. Do you want to stay healthy forever? Go for Cycling. They not only use it on the daily basis and other works but they also use it to stay healthy. It keeps you healthy and is pollution-free.
Trust me on this; Cycling is really a healthy practice of enjoying your rides. Following are some of the benefits of Cycling:
ŸMovement of Joints
Cycling helps in the Joint Movements. It is a softer way to keep your joints fit. All other activities like jogging, exercising etc. are harder to do and hectic. But, Cycling is a way to get a good movement of your joints without getting any pain or fatigue. It avoids the risk of the occurrence of Arthritis and puts comparatively less pressure on our joints.
ŸKeep your heart healthy!
While cycling, your legs, and muscles work and move rapidly that leads to your heart rate getting benefitted. It helps in increasing the stamina and keeps you fit. Thus, Cycling helps in the improvement of your heart's working and blood circulation in the body.
ŸStay slim, stay strong!
Cycling helps you in weight loss in entertained manner. Cycling burns more calories than any other form of exercising and that too in such a short period of time. It burns at around 300 calories in an hour. This is equal to your exercising in a gym from approximately 2 days.
ŸBye! Bye! Back Pain.
Cycling leads to the strengthening of the spine and removal of the physical stress from the human body. You just need to maintain a good posture while riding the cycle and maintain the coordination of your legs with the Cycle. It facilitates the movements of the vertebral muscles and helps in the reduction of the back pains.
Ÿ Take a chill-pill!
Everyone's life has stress. Whenever you are tension or something is disturbing your mind, just take a ride outside on your cycle. You will feel very relieved and fresh doing this. It improves our overall mood. You will now truly have a stress free sleep and a happy day.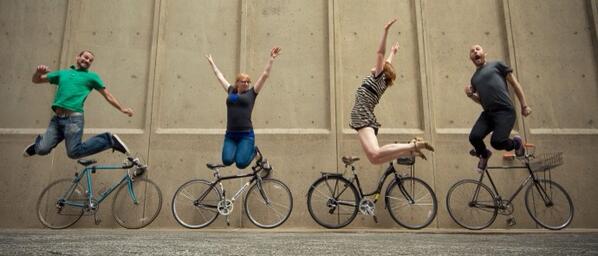 You might have now got to know the benefits of cycling. Cycling is too important in our lives. Everyone should indulge in this healthy activity. It is applicable for every age group. If you really want to buy a cycle, you cannot miss on bringing it at your home.